DIN RAIL MOUNTING PLUG-IN CONNECTORS
euroclamp DIN rail mounting plug-in connectors are now available. SVR-DR connectors in the pictures below have a foot element for mounting on a DIN rail. This mounting system can be useful for example if the user needs the SVR-DR connector inside an electrical cabinet. Male-female matching system allows the wire-to-wire connection, and can be used in those applications where frequent circuit breaks are required.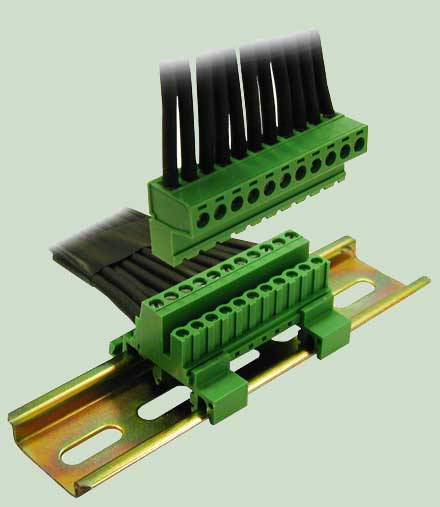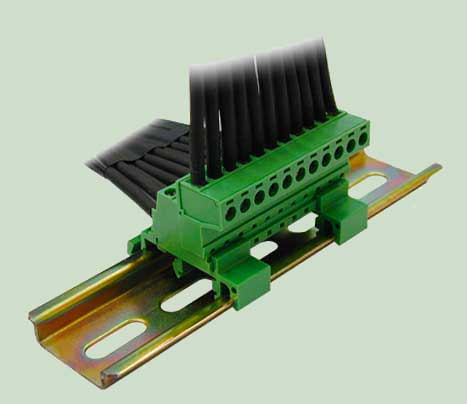 Unlike competitors, the main feature of the DIN rail mounting plug-in connector "

SVR-DR

" is that metal contacts are insulated into the plastic body of the terminal block.
More features are:
approved

Wire section: up to 4 sqmm (solid) and 2,5 sqmm (stranded);

Captive screw M3: case-hardening threated and zinc plated;

Several colours available: green, grey, black, blue, red, yellow, orange, and more…

Optional version available: approved for the EN60335 standard (glow-wire test standard);

non need to use additional white tags. non need to have a plotter. we can padprint Euroclamp SVR-DR and SF for you;

The hook is suitable for din rails:


35*7.5 (DIN EN50022),
35*15 (DIN EN50022),
DIN 32 (DIN EN50035)
DIN 15 (DIN EN50045).


Green part below is the the hook (without the terminal block). Black and grey profiles are 2 alternative rails



We remind you that more

euroclamp

products belong to the " wire-to-wire " category: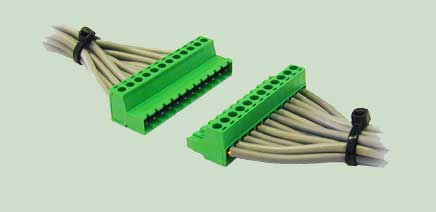 euroclamp free-hanging plug-in connector "SF" has an inverted mounting system: it means that it has male contacts. Male contacts allow the SF the connection with a conventional plug "SH", which has female contacts. Male and female free-hanging plug-in connectors SF and SH are available with 2 to 24 positions!
All these versions offer users a large range of combinations
SF can be connected with "SVR-K" female plug-in connector too. SVR-K can be supplied with or without 2 flanges: they are mainly needed for the direct mounting onto electronic housing for various applications. SVR-K is applied in building automation as well.